0


Today - the last day in our Chinese bike adventures in 2013. The culmination of the day is going to be
our conquest of 4000 meters height at dirt roads !!! Yesterday confirmed our physical and moral
readiness for such a workout ... However, it was decided to start the morning with a breakfast at
yesterday's cafe with a virtuosic cooking of pasta and noodles.
Igor insisted on it, since he had shot interesting video yesterday, and now wanted to get more in quality photos.
The result of his photo exercises became a high-calorie and delicious breakfast with freshly prepared pasta.
We were taken by our driver, who had returned yesterday from home to work, straight from café.
We became involuntary witnesses to the execution of clockwise detour ritual of sacred pagoda by our
driver. At the same time, oncoming drivers calmly and without emotions bypassed our car.
It is easy to imagine the reaction of our drivers at such a situation ...
Always ready for immediate shooting Igor was crushed ...
He did not have time to shoot this sacred ritual !!!
We all hoped that on the way back we would not miss such a sight, and would all fix it with a cold precision ...
On our way to the start point we admired by the local mountain landscape.
After unloading and releasing the car, we quickly rushed down on the concrete road.
Towards powerful mountain river, which we crossed by concrete bridge.
Behind our backs the sky is overcast, and even light rain drizzles.
The ride is absolutely not cold and even hot due to continuous climb.
Traverse road is set by the slope of a huge canyon.
The opposite slope is cut by the beds of streams, rolled over by rapid water.
A clear blue sky beckons ahead of us.
The bottom of the canyon ends with shepherd village. Shepherds most likely live and work here during the mass grazing.
On the way, we often came across pigs.
and yaks.
The sheer size of the animals with long horns caused us concern, but peaceful and non-confrontational nature of the local animals could not be compared to their Ukrainian brothers ...
On the trees branches and at rocks it is found interesting plant-like algae. The impression is like water was gone, and seaweed left on the branches and roots of trees.
After a long climb we allowed ourselves to stop for a rest.
Soon we reached our record climb point. 3762 meters.
In our land at 1500 meter you can only see grass, and here at this altitude flora is the same as we have on our native land's plains ...
After a little more climbing we found the next shepherd village.The very existence of actively working
people at such a height amazes our imagination.
Suddenly it started pouring rain. In the mountains - this is a common practice.
Fortunately, it turned out that a shepherd's structure was nearby under the roof of which we took shelter and put on our jackets.
The mountain stream carefully set with a wooden trough for easy taking of water.
A little more effort and we reached a height of 3900 meters.
At this height mushrooms grow clearly.
and a fairly large trees.
Zenith and the purpose of our trip – Lake in highlands - appeared at an altitude of 3900 meters!
We even felt a little bit sad because we did not gain the coveted 4000 meters ...
However, we weren't sad for a long time.
Suddenly, the clouds came down and heavy wind and real downpour began, that drove us away from the lake's hill ...
Vanya saw a small house not far away with a modern metal roof. The last time it was not.
We took refuge there from the rain, and because of the sudden cold put on the whole of available clothes.
Since we were not going out at the storm wind, we decided not to waste time and have a dinner.
Rain ended as suddenly as it had begun. Clouds were swept off and the sun shined with its light the entire valley.
Of course we took a photo near the lake, but didn't hurry to undress. We would have a long downhill.
Initially, I wanted to swim in the lake, but evaluating its approaches and the upcoming cooling descent, decided against it.
Because of the mud we could not get even to a shepherd's hut located in the near.
The original plan was drawn to have down the other way, but a sober analysis of the condition of roads after the rain forced us to go down the same path, which we climbed.
But even the road with dense coating, which we have passed was changed significantly...
Peacefully grazing beside the road yaks calmly waited out the rain
and it seemed they didn't hide rom it ....
Near the bridge over the river we took off our protection from rain and wind.
Having made not a long climb up to speed concrete road, we found our car with a driver and captured
the end of our tour. Ivan solemnly congratulated us with the tour finish and gave us compliments on our endurance and cool nature !!!
In a roadside creek Vanya organized an impromptu car wash.
We jointly gave him our bikes for wash off the dirt before loading them into the car.
На обратной дороге мы обнаружили ДТП. Небольшой трактор везший бревна перевернулся прямо посреди широченного шоссе и перегородил проезжую часть.
On the way back we noticed a road accident. Small tractor with logs overturned in the middle of the
broad track and blocked the roadway. Perhaps this accident affected our driver so that he decided not to
tempt fate. Ritual detour of pagodas against the main traffic was not performed! We lost the unique
photo and video confirming inviolable respect for the canons of Tibetan religion ...
After arriving at the hotel, we showered and put ourselves in order. However, the cultural program for
today was just at the beginning ... The owner of the hotel took us to a very respected among locals
restaurant.
The discreet appearance of a place does not mean his low class! Soon, we once again had to see this!
A set of dishes was served each in a separate package.
On the tables there were alcohol burners, which were ignited by careful staff.
Every guest had its own burner
On the burner it was set a saucepan with boiling broth.
And as the main dish it was served very thinly sliced and beautifully laid on a plate the meat from
various parts of yak's body.
In separate bowls were served seasonings, sauces and spices.
The cut pieces of meat were taken with chopsticks and dipped in a pot of soup.
In the same broth can be put greens, potatoes and other vegetables.
Some pieces of meat need to be boiled in the broth, and some can be eaten raw ...
During our dinner, some monks requested to give them donations for the temple ....
Same thing remembered to be in our country.
Cool idea! Had met our priests in trains ...
At home I do not go to restaurants. Maybe they foraged there also ???
After a hearty beef dinner we went to buy the famous tea, "Puer".
It was necessary to bring from China something that was really Chinese ...
The procedure of expensive tea selling in China is through the tea ceremony, which is itself a show,
performance and spectacle. Seller was a virtuoso of tea service and knew many legends about tea, and
was considered a big connoisseur and expert in teas ...
We tasted green and black teas.
We listened to a lot of legends about tea, learned astronomical figures of the age of the tea trees and
customs of people who live near them ... Partially you can hear and see everything in the attached video footage below ...
As a souvenir I bought here a couple of tea balls for 30 yuan.
In addition, we bought briquette of green and black tea.
The owner of the store boasted to us having a mascot of tea from the oldest tea tree on the ground.
He did not sell it at any price, even though he says he was offered for this briquette $ 10,000.
He refused...
It is hardly to take it as a proof...
Tea purchased by us was packed in a very beautiful paper bags with ties ...
Of course, it ended with a group photo for memory, by our camera and store owner's one ... Such exotica as we locals also love to capture for memory ...
Такую экзотику как мы местные тоже любят фиксировать на память...
We returned to the hotel through the dark streets with a very beautiful lighting in some places.
And so ended our last bike day and Chinese bike tour in 2013.
Tomorrow we will fly to Shanghai - Dubai and then Kyiv ...
But it will be tomorrow ...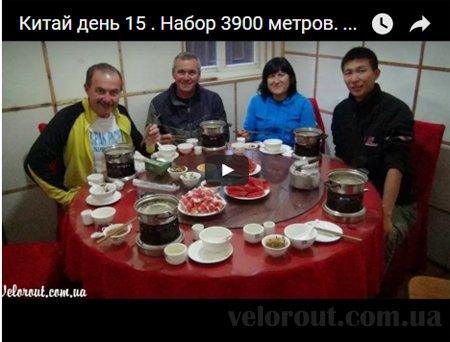 Photo Album